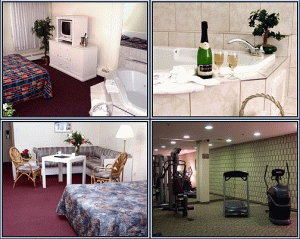 If you visit Edmonton for business or for the many festivals and attractions, the Argyll Plaza Hotel is the place to stay given its location in the heart of the south side with access to Whyte Avenue, Old Strathcona Farmer's Market, Ikea, the University, Gateway Entertainment Centre, nightlife and shops.

You will find the comforts of home in our 48 oversized, clean comfortable rooms. Our southside Edmonton hotel is connected to the Argyll Plaza Arena and offers special team rates for hockey clubs.
Room Features

48 Oversized, clean comfortable rooms
Standard rooms feature two beds
Kitchenette units available
Jacuzzi suites available
Individual Climate Control/Air Conditioning
In-room coffee makers & microwaves
In-room Hair Dryers Full cable, colour TV with remote
Non-smoking rooms available
Adjoining rooms available
In-room movies
Voice mail
Clock radios
Ample free plug-in parking
Pet Friendly hotel (small pets allowed only on the smoking floor)
Express Breakfast Offered Daily
FREE Wireless Internet Available
Guest Coin Operated Laundry Facility
Kitchenette Units are an additional $10.00 per night.
Please visit Argyll Plaza Hotel Website.
---
To investigate other Edmonton accommodations, use these links:
Edmonton Hotels, Motels, Resorts, Cabins and Cottages
Edmonton Bed and Breakfasts
Edmonton Campgrounds and RV Parks
Contributor Experiences
Contributor Experiences are governed by our Contributor Policy.
There are no experiences for Argyll Plaza Hotel
Kitchenette units available
Jacuzzi suites available
Individual Climate Control/Air Conditioning
Full cable, colour TV with remote
Adjoining rooms available
Ample free plug-in parking
Pet Friendly hotel (small pets allowed only)
Express Breakfast Offered Daily
FREE Wireless Internet Available
Guest Coin Operated Laundry Facility