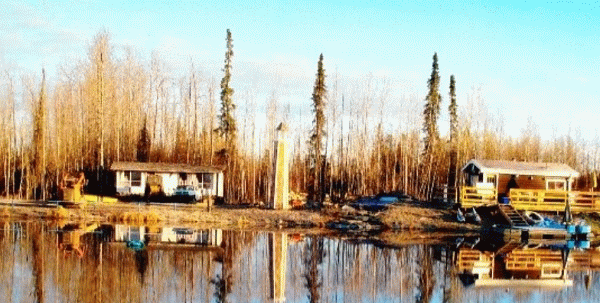 Located outside of Drayton Valley, Alberta, in Brazeau County Louie Lake Ltd is a campground with 11 fully serviced winterized RV sites and 5 summer only RV sites. There is ample room for camping and picnics.

There are 4 cabins available to rent year round. Louie Lake Ltd cabins are all newly renovated inside and feature full kitchens complete with dishes and cooking utensils,comfortable beds, showers and satellite TV. Each has its own deck facing the lake.

We also have 2-30' 5th wheel RVs for rent, each on its own RV site. Louie Lake Ltd RV sites are large and several have decks. Native trees between the sites give added privacy. Louie Lake Ltd has lots of room for tenting. Picnic tables and fire pits are available and firewood is free.

This is all situated around a 3 acre fish lake, stocked yearly, We at Louie Lake Ltd hope you catch a 3 lb Rainbow trout. Small non motorized boats are allowed.

Docks are around the lake for fishing or just enjoying the view and wildlife. The pond is clean and aerated, so swimming after a hot summer day is a nice way to cool down.

While at Louie Lake you can practice your chipping at a golf game for prizes, play horseshoes, snakeball, or wander the surrounding forest, searching for birds or wildlife. We have a variety of waterfowl that nest at the lake.

In the evenings a light house lights up the waterfall and old fish cabin.

Dogs are welcome, but must be on leashes at all times and cleaned up after. Children under 12 must be attended when near/in the water, no lifegaurd. Quiet time is from 10:30 pm till 7 am. Terms are cash.

Drayton Valley is just a short scenic drive for shopping. Both the Pembina and the North Saskatchewan rivers are short distances away.


Please visit Louie Lake Ltd. Website.
---
To investigate other Drayton Valley accommodations, use these links:
Drayton Valley Hotels, Motels, Resorts,
Cabins and Cottages
Drayton Valley Bed and Breakfasts
Drayton Valley Campgrounds and RV Parks
Contributor Experiences
Contributor Experiences are governed by our Contributor Policy.
There are no experiences for Louie Lake Ltd.